Emergency Pipe Repairs Bedford
Do you need an Emergency Pipe Repair in Bedford? At TPA Emergency Repairs, we offer one of the best Pipe repair service across Bedfordshire. We also offer a next day pre-book service at a lower rate.
Average 60 to 90 Minute Response Time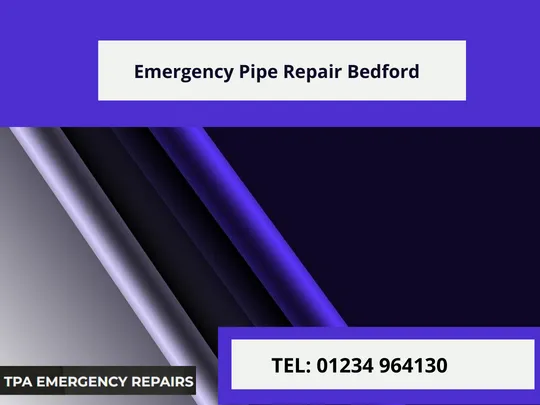 Emergency Pipe Leak Repair Bedford
Your plumbing piping system is probably the most hardworking feature in your home. Unfortunately, this also makes it susceptible to all kinds of issues some of which may require urgent attention. We offer one of the leading emergency pipe leak repair services in Bedford. We are fully equipped and strategically located to attend to anything that might go wrong with your pipes.
So, why wait when you can get a trained and fully qualified expert to fix it within the hour or two? Remember, the earlier that pipe burst or leak is attended to, the less damage to your property.
Feel free to call us no matter what time it is! We are available 24 hours a day in some cases.
Burst Pipe Repairs Bedford
When a pipe burst occurs in your home, it can cause quite an inconvenience for everyone living there. Everything from showers to laundry and cleaning up after dinner becomes harder when the usual flow of water is interfered with.
What's more, when severe, a pipe burst can cause significant water damage to your property if not attended to in good time. If you want everything back to normal again quickly, hiring an expert plumber for ruptured pipe repair in Bedford would be the best thing to do.
We are the team that can fix your burst pipe once and for all. We come to you with our professional equipment and our experienced crew to help you deal with this emergency as promptly as possible. Call us to get an expert dispatched to your location ASAP!
Majority of calls  are answered on the first instance. 
Frozen Pipe Repair Bedford
Frozen pipes are a common problem during winter. When temperatures drop, water pipes can freeze and crack. This can lead to leaks, water damage and expensive repairs down the line.
No matter where you are within Bedford, if you have a frozen pipe, it's time to let in the pros at frozen pipe repair.
Our plumbers can find the source of the problem and fix it before it becomes more serious.
If your plumbing system freezes, the best thing you can do is call us fast! We have all the tools and experience necessary to fix any type of frozen pipe scenario. We take pride in our quality workmanship and our prompt response time to ensure that your home is back up and running as soon as possible!
Leaking Pipe Repair Bedford
If you have a leaking pipe in the wall or a copper pipe leak, it is important to repair it right away. Not only will you save money by repairing the damage instead of replacing the pipe, but you will also avoid losing water pressure and having to deal with the mess and inconvenience of a leak.
If you notice that there are leaks in your home, it's time to get professional leaking pipe repair from within the Bedford area.
At TPA Emergency Repairs, we have a team of experienced and friendly plumbers that will handle your plumbing issue fast and efficiently.
Contact us today to get that stubborn leak fixed by people who have the right tools and expertise for the job.
Frequently Asked Questions
How much does a call out cost?
Our base rate begins from £95 call out plus £95 for the first hour. You will be given a fixed rate over the phone. Next day pre-book service is cheaper
Are your Bedford Engineers Qualified?
They have years of experience, insurance, and all the relevant qualifications
Take a look at our Vimeo videos and twitter page or Pinterest. You can also see us on  Bedford Today, Bedford Cylex and the construction index. Our Service Terms,  About us, Contact us. Services; On Call Plumbing Bedford, Plumbing Leak Repair Bedford, Noisy Radiator Repair Bedford,  Toilet Pipe Repair Bedford, Local Heating Engineer Bedford, Gas Boiler Engineer Bedford, New Gas Boiler Installation Bedford, Boiler Leak Repair Bedford, Leaking Stopcock Repair Bedford